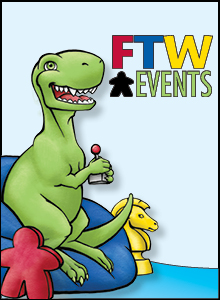 5th Annual Night of Gaming for Good
Columbia Tower Club
701 5th Avenue 75th Floor, Seattle, WA, 98104
Friday, September 02, 2022 6:00 pm until 12:00 am
Organized by: Matt Winberry (Contact)
Event Description
Together with our friends at Mox Boarding House, we are proud to present our annual Night of Gaming for Good on Top of the World!
Join us Friday, September 2, 2022, for an evening with the tabletop community as we play games, feast from a fantastic buffet, enjoy gorgeous panoramic views from the 76th floor of the Columbia Tower (the highest publicly accessible point in the city), and raise funds for a great cause.
Our beneficiary, the Imagine Guild, supports the Seattle Children's Hospital, Uncompensated Care program. This program helps vulnerable families by easing the financial burdens of their medical needs, allowing them to focus on the most important thing - the child's health.
When: Friday, September 2, 2022, 6:00 PM - 12:00 AM
This is Friday night during PAX West weekend, though you do not need to have a PAX badge to join us.
Where: Seattle's Columbia Tower Club, 701 5th Avenue, 76th Floor
An 8-block walk or $5 Uber/Lyft ride from the Washington State Convention Center.
Why: Because after the last couple of years that we've all had, we deserve to have a safe, nice night out where we can laugh, play, and be merry. Because you love to game. Because you love helping a good cause. Because you'll be able to meet many other gamers and industry folk. Because you love to game. Because nothing beats the city view from the Columbia Tower. Because you LOVE TO GAME!
General Admission ~ $89 early bird $99 GA
Rather than having a VIP option this time, we have upgraded the General Admission dining menu as a whole with some incredible food. We'll be serving steak as the main entrée (with vegetarian options available, of course) as well as some other to be announced delectable menu items, so be sure to come ready to eat! We've got limited early bird tickets available, so snatch them up quickly if you get a chance.
A Night of Gaming for Good
Have a great time meeting and playing with other gamers. Going solo? No problem! We'll have matchmaking "looking for players" signs available.
Check out games from our extensive lending library (you're welcome to bring your own as well).
Enjoy a decadent buffet provided by the Columbia Tower Kitchen.
We will indeed be having a raffle at this event, thanks to a couple of generous benefactors, but due to supply chain/pandemic-related issues, it will not be our usual grand raffle and instead be a smaller prize pool. We hope that at future events, the economy improves and our raffle can be back at full force.
Buy new games to take home at our pop-up store, helmed by Mox Boarding House.

Each ticket purchase includes two (2) $5 vouchers for a total of up to $10 off qualifying purchases at the pop-up shop!
More to Come
In the days leading up to the event, we are still working on some surprises. Stay tuned to see just what else we have up our sleeves.
Official Event Page: https://www.ftwevents.com/pax2022

Who Attended
Matt Winberry
William Jensen
Richard Gilmer
Melissa Poole
howsun
Craig Kulfan
Ethan Treber
Adam McCormick
Christine McCormick
sam povilus
rachel povilus
Rob Nertney
Kevin Morris
Laura Johnson
Carl Johnson
Gary Lau
Alana Quiggle
Jason Quiggle
Kenneth Stoneman
Amanda JeuDevine
Michael Apfelbeck
James Dodds
Sarah Schultz
April Bunnell